At Global GRAB, we have earned a reputation as the worldwide authority on perimeter security and a purveyor of less-than-lethal solutions.
Headquartered in Franklin, Tennessee, we serve clients worldwide from our fabrication facility.
Our team works directly with our clients to design perimeter security solutions. Then, we procure and/or fabricate all of the components necessary to create end-to-end perimeter security systems. Each solution is tailored to a facility's unique vulnerabilities, and delivered completely turnkey.
After an extensive evaluation process, we are proud to have received the U.S. Department of Homeland Security SAFETY ACT designation for our award-winning, less-than-lethal perimeter security innovations.
These solutions are implemented to protect financial institutions, aviation complexes, data centers, government buildings, military bases and more.
Our suite of flagship solutions includes active barriers, passive barriers, mobile barriers and tire-shred solutions, and we are particularly proud of our less-than-lethal offerings.
Our Less-Than-Lethal Differentiator
Less-than-lethal is an important consideration in perimeter security.
When a hostile vehicle attack occurs at a mission-critical organization, preserving the life of the vehicle's occupant(s) also preserves the opportunity to obtain crucial information about motive and potential future attacks.
But interrogation isn't the only reason less-than-lethal is important.
There are numerous vehicle breaches that are unintentional. These vehicle attacks aren't hostile, but rather are the result of a medical emergency on the part of the driver, or simple confusion. When a driver unintentionally runs a checkpoint, stopping the vehicle remains paramount. However, preserving the driver's life, and the lives of the vehicle's occupants, is also important.
Our line of less-than-lethal vehicle barriers includes STAR Barriers, our CATSCLAW tactical tire-shred solution, and our GRAB-300.
STAR Barriers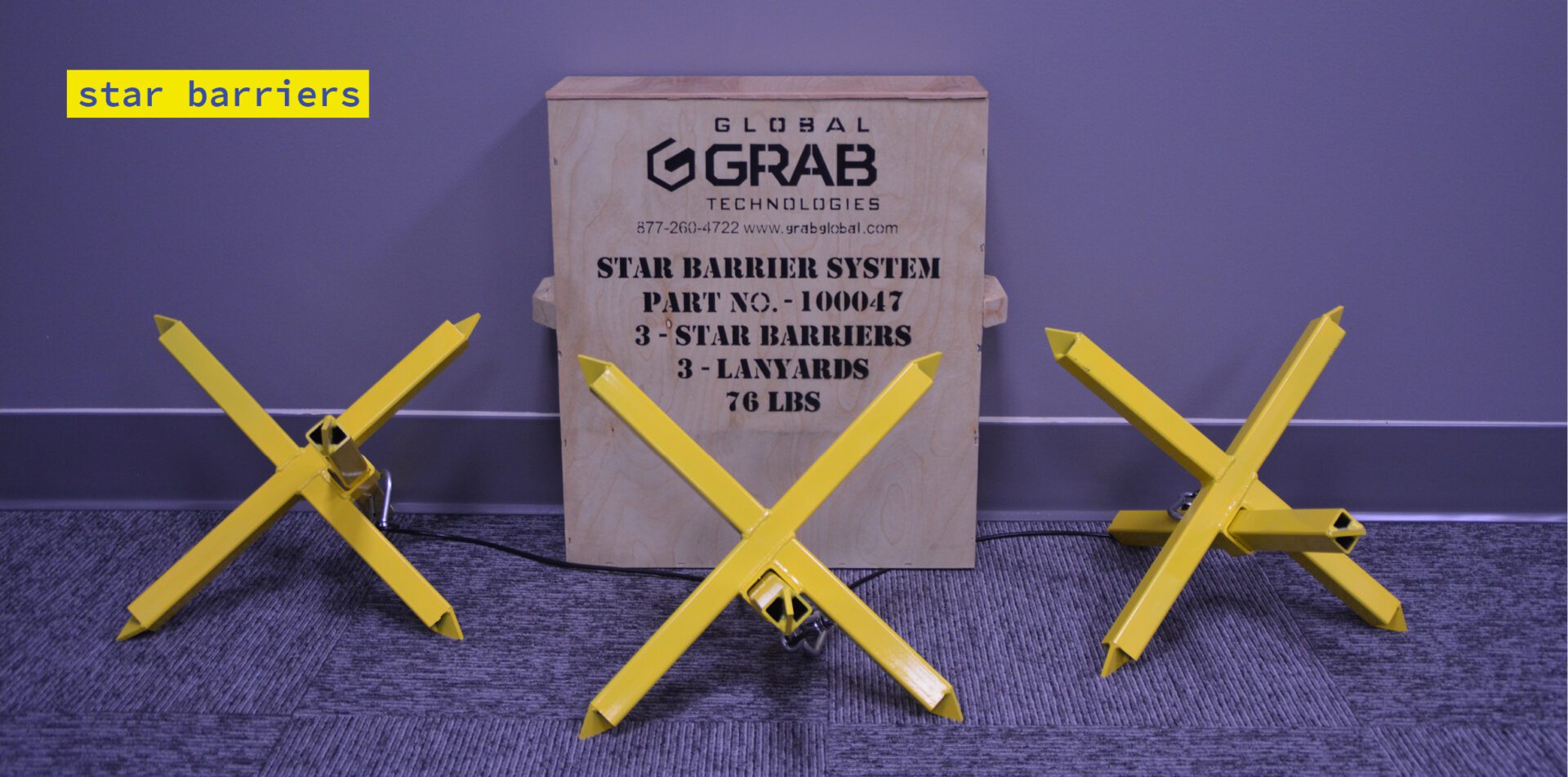 STAR barriers are individual star-shaped steel elements that can be set up as a mobile barrier with little to no training. They are ideal for creating a perimeter around a crime scene or traffic incident, or to set up a temporary checkpoint.
Each STAR is six-pronged and every prong is topped with a tire-puncturing spike. When several STARs are strung together, an effective barrier is quickly formed. Just as efficiently, the barrier can be disassembled, and each star comes apart to pack neatly in its own carrying case.
Easier to set up than Concertina wire, STAR barriers are also safer, as they don't pose the same risks for accidental injury.
CATSCLAW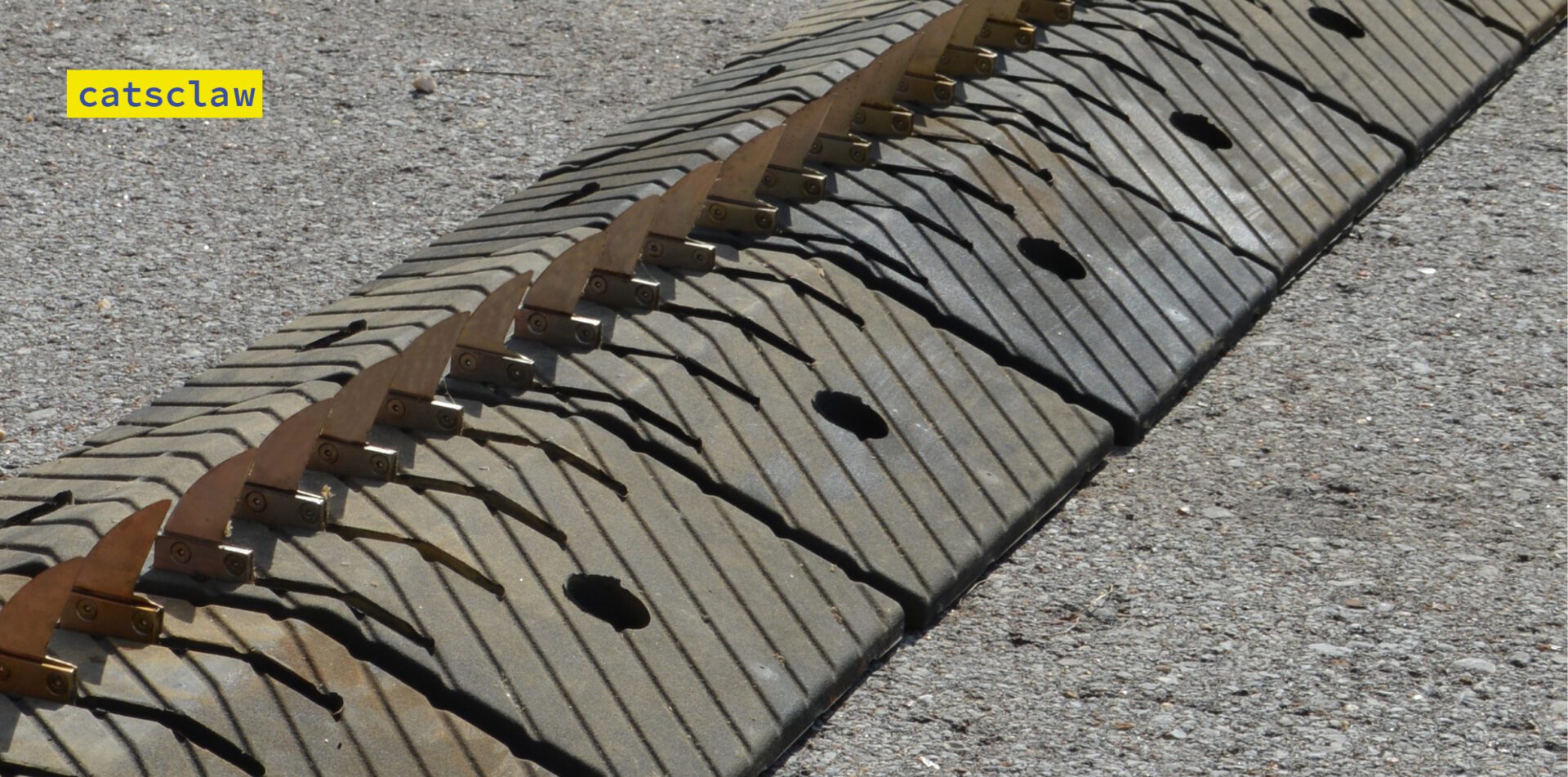 Our CATSCLAW tactical tire-shred solutions are implemented as either mobile barriers or installed in-ground at checkpoints and land border crossings.
CATSCLAW systems have become one of the most sought-after solutions for access control and vehicle checkpoints. The durability and reliability of the CATSCLAW is perfect for airports, data centers, stadiums and other critical infrastructure.
As seen in this animation, single or bi-directional blades are deployed to shred tires and prevent vehicle ingress or egress. The system can be activated by remote control or by depressing a button integrated into a guard booth control panel.
Pairing CATSCLAW with our GRAB-300 active vehicle barrier system provides superior protection at access points, and both components are less-than-lethal.
GRAB-300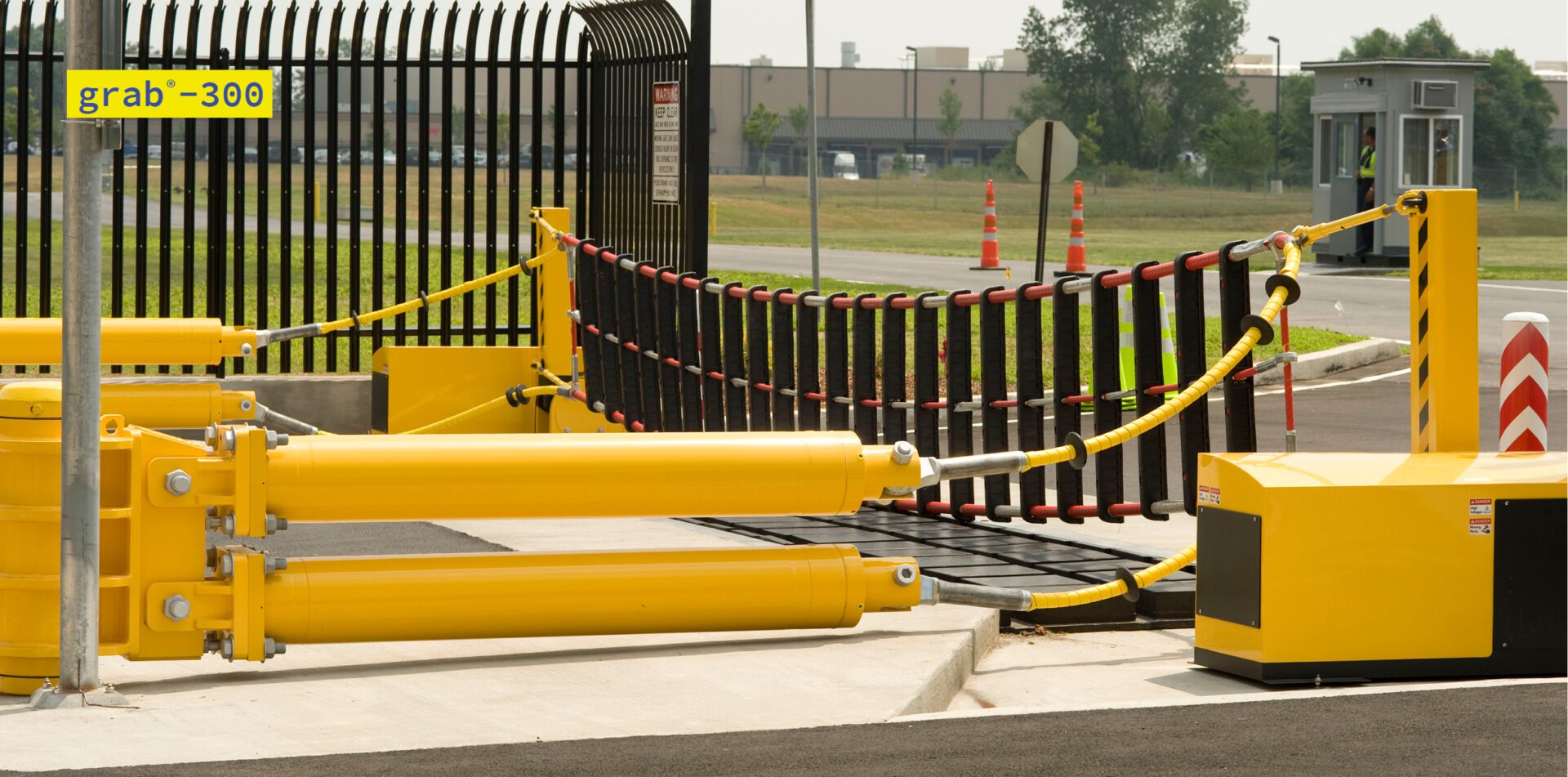 The GRAB-300 is an effective solution for final denial. Our GRAB systems use patented technology to stop vehicles by absorbing energy upon impact. An active vehicle barrier, the GRAB-300 has met test criteria of ASTM 2656-07 M50/P2 (15,000 lb truck at 50 mph, Penetration 3.31' to 23.0').
Unlike a wedge barrier, which can result in a potentially fatal, high-impact crash, the GRAB-300 deploys an industrial-strength net to capture the vehicle and stop it. Thus, when denied by the GRAB-300, the vehicle is not destroyed upon impact, and the lives of its occupants are preserved.
The effectiveness of the GRAB system can be seen in the report on an incident at Fort Carson, Colorado. A vehicle involved in a high-speed police chase sped through a checkpoint at 65 mph. The soldier on guard duty was able to press a single button to deploy the GRAB system, effectively stopping the vehicle.
Protecting Perimeters and Preserving Lives
At Global GRAB Technologies, our team of perimeter security experts are committed to engineering perimeter security systems designed to protect people and property. We continually innovate with a focus on developing less-than-lethal solutions that preserve lives.
This preservation of life protects those involved in an accidental breach and aids law enforcement in apprehending and questioning terrorists and others intent on inflicting harm.
Are you interested in learning more about our less-than-lethal solutions? Connect with us on LinkedIn to stay informed or contact the team today to discuss.