As more public events and gatherings are expected, the perimeter security and anti-terrorism experts at Global GRAB stand ready to support mission-critical professionals globally.
From large, traditional events such as the Mardi Gras in the United States or Oktoberfest in Germany, to smaller public events such as holiday celebrations in cities and towns across the world, security should be top-of-mind.
These large gatherings can be a target for terrorists or lone-wolf offenders who intend to use a Vehicle As A Weapon (VAAW). Requiring minimal funds and almost no training, terrorists or a single individual can commandeer a vehicle and drive it into a densely populated area, inflicting massive casualties, serious injuries and extensive property damage.
The frequency of Vehicle As A Weapon attacks has been increasing in recent years, as seen in the vehicle-ramming attack on the London Bridge, the Hostile Vehicle Attack (HVA) on the Christmas Markets in Germany and the infamous 2016 Nice truck attack.
During the initial planning stage for an upcoming public event, it is vitally important to make perimeter security and hostile vehicle mitigation planning a priority, which will undoubtedly reduce risk and save lives.
At Global GRAB Technologies, our team of perimeter security experts provides end-to-end turnkey solutions to both government agencies and commercial organizations, focusing on mitigating hosting vehicle attacks.
Our suite of end-to-end solutions includes active vehicle barriers, such as our GRAB-300 and GRAB-400, and passive vehicle barriers, including our SW1200 Post & Cable and anti-climb ARES Steel Fencing.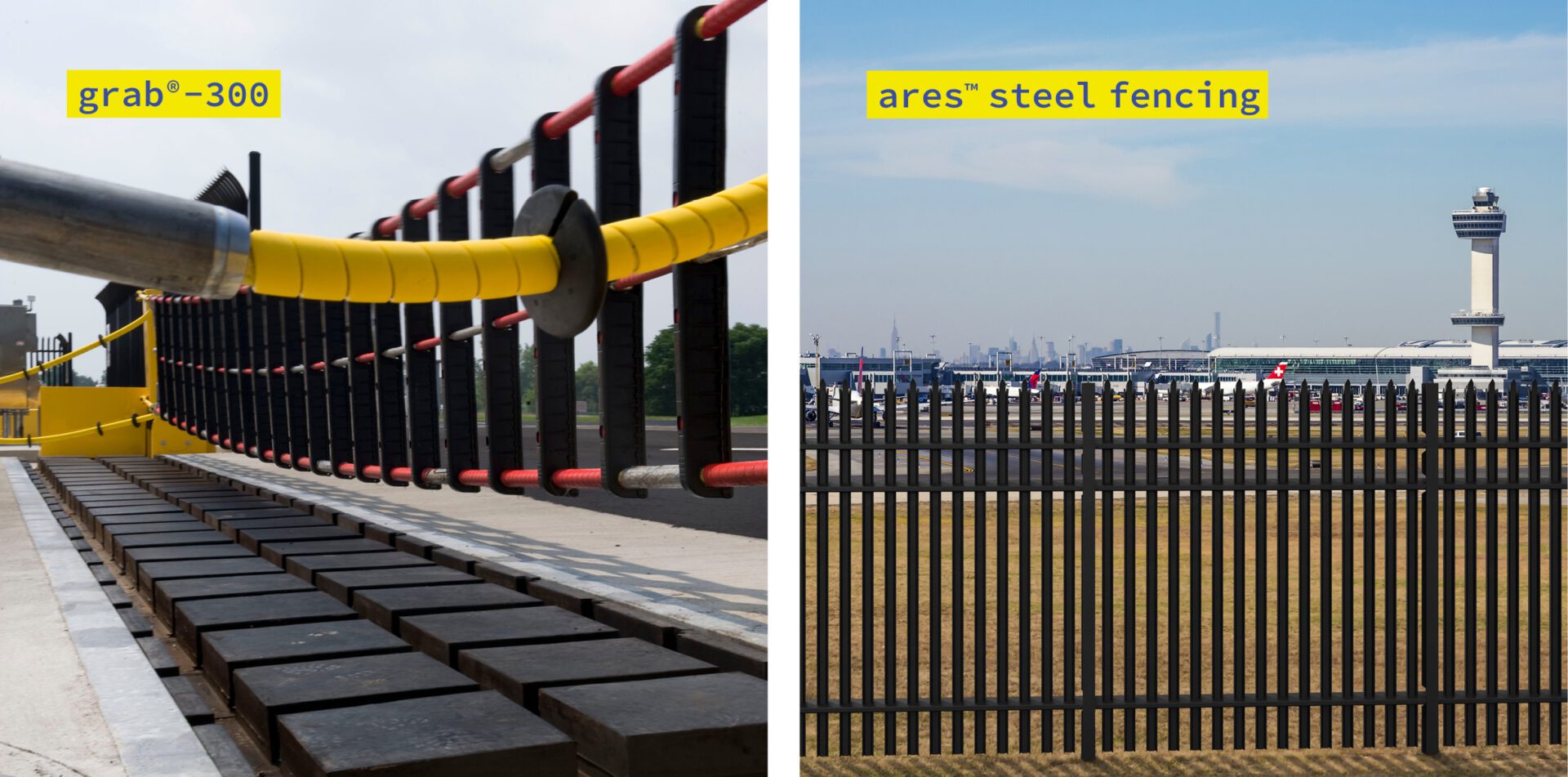 However, we also specialize in creating secure perimeters for temporary events using mobile barriers, including modular vehicle barriers, Star Barriers and CATSCLAW tire-shredding solutions.
Modular Vehicle Barriers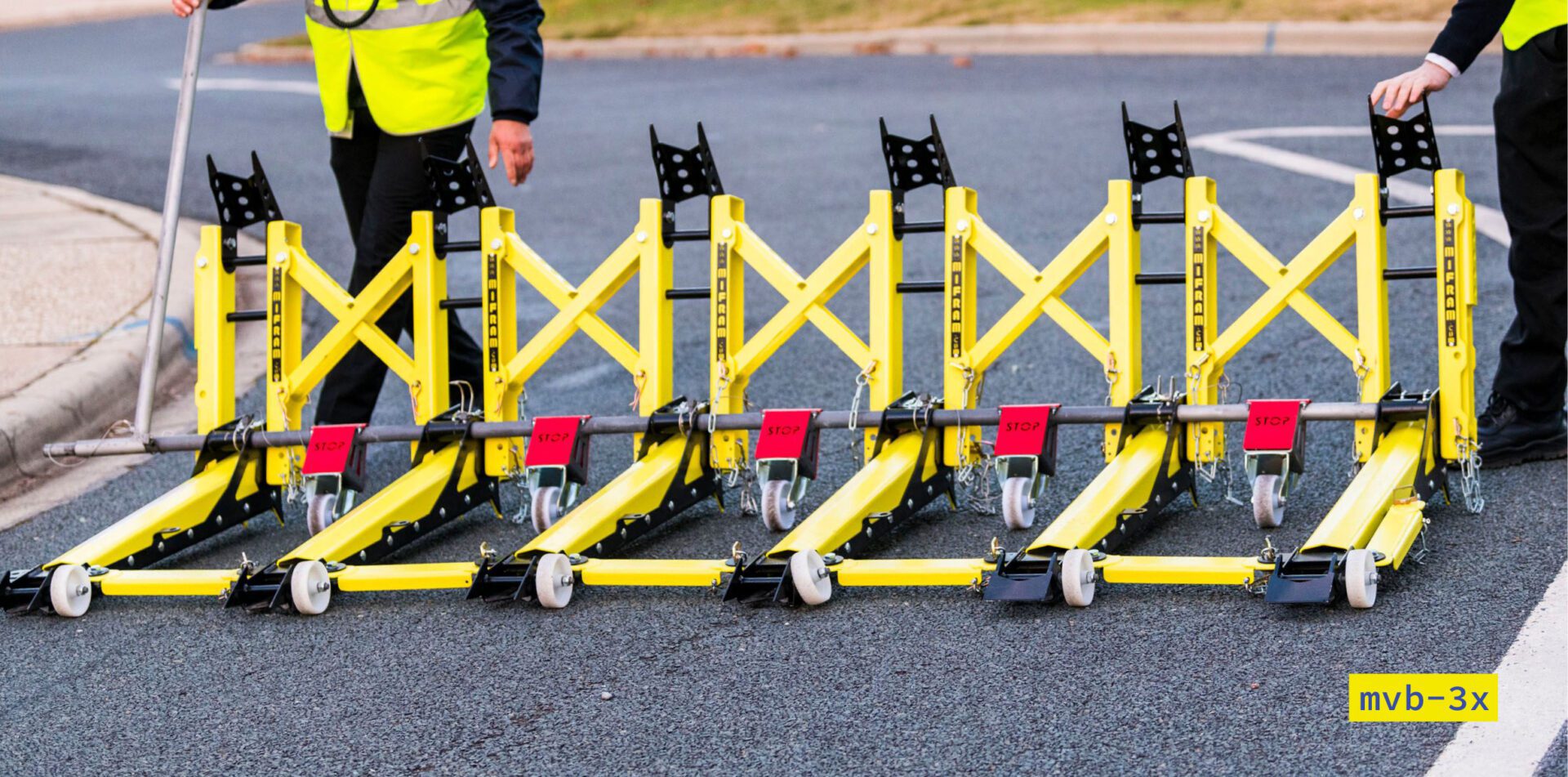 Modular Vehicle Barriers are anti-ramming solutions that are lightweight and simple to set up. Mobile barriers like the MVB-3X can be erected temporarily to protect against the potential of a security breach or threat, as well as providing a safe and agile solution for access control and checkpoints.
The MVB-3X is a crash-rated, IWA-14 and PAS 68 standard mobile vehicle barrier. The barrier has been tested and rated to stop a 7.5-ton truck at 30 mph, and each unit includes one lane of MVB-3X barriers (a set of 8 individual barriers) and a container for storage.
As a less-than-lethal solution, the MVB-3X is used in both military and civilian settings to stop vehicle intrusion by the deployment of a mobile, temporary barrier. The MVB-3X transfers the forward momentum down into the ground, effectively slowing and then stopping the vehicle, as shown in the MVB-3X crash test video.
The MVB-3X barrier works on various terrains. Since the barrier does not need to be secured to the ground or pavement, it can be easily pivoted and rolled to allow emergency vehicle ingress and egress as needed.
Modular Vehicle Barriers like the MVB-3X provide essential protection against hostile vehicle attacks involving light trucks, commercial and private vehicles and quads or motorbikes.
Star Barriers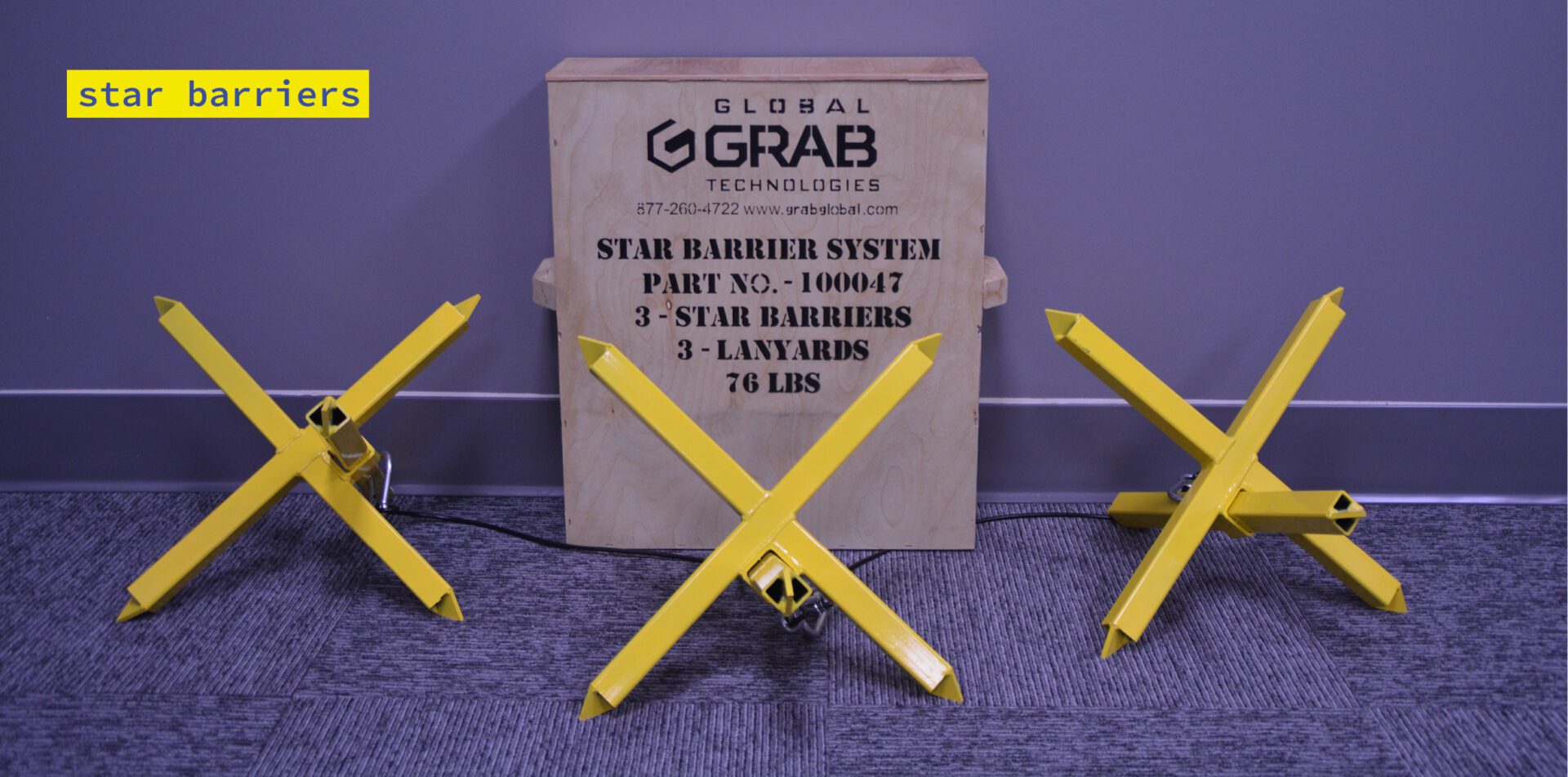 With Star Barriers from Global GRAB Technologies, a temporary checkpoint or perimeter can be established in mere minutes. Unlike concertina wire, Star Barriers can be set up by a single person and require absolutely no special tools or training to deploy.
Each Star Barrier is lightweight, easy to assemble, and breaks down to fold uniformly, fitting easily into its case. Ease-of-use, coupled with quick assembly and disassembly, makes Star Barriers an effective solution for crime scenes, mobile traffic control, crash barriers and checkpoints.
While less-than-lethal, Star Barriers are an effective solution used by the U.S. Military, law enforcement and corporate security professionals globally.
CATSCLAW Tactical System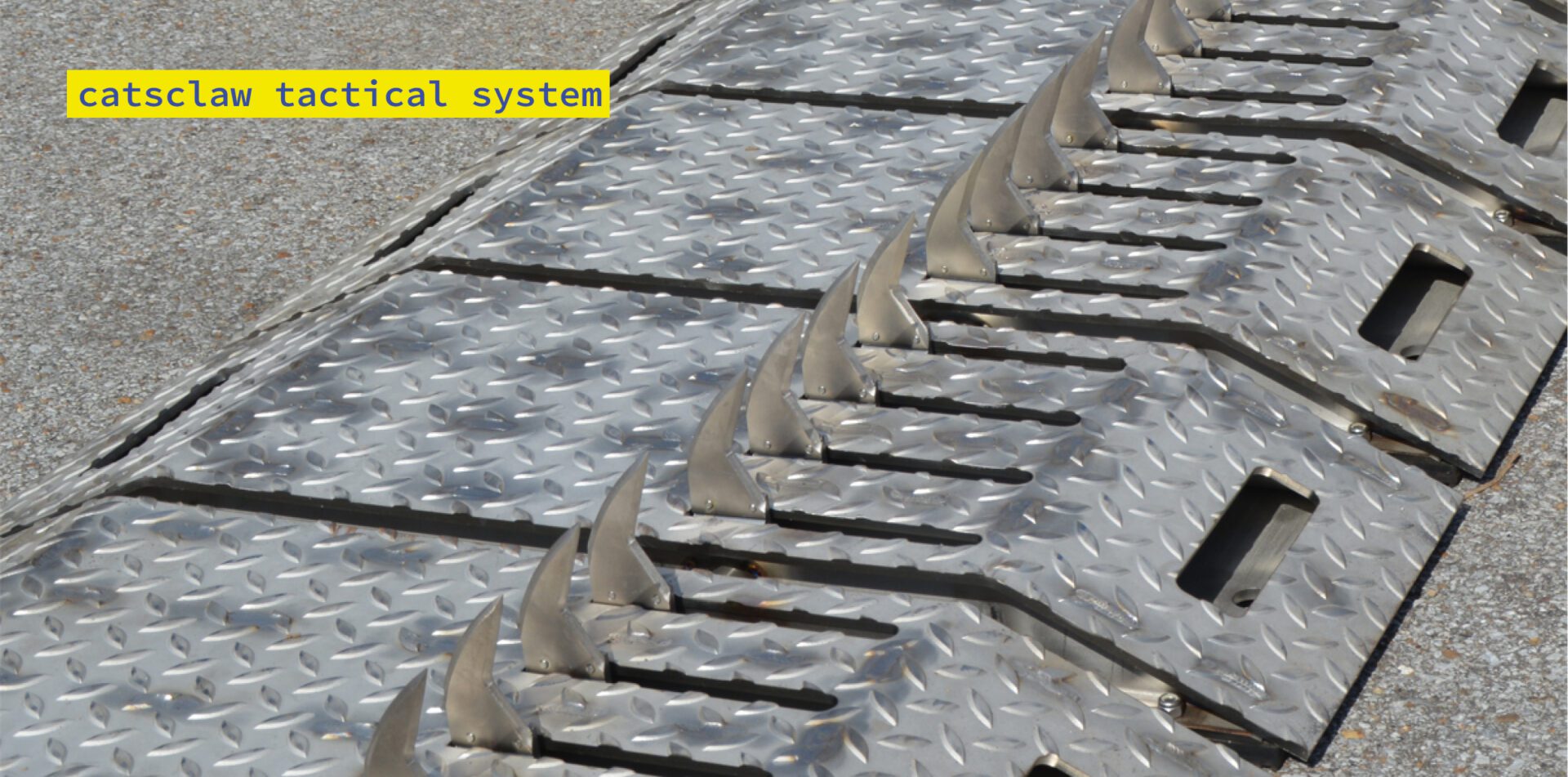 Our CATSCLAW Tactical tire-shredding products provide a less-than-lethal solution for suppressing hostile vehicle attacks. Depending on the scenario, CATSCLAW products can be fitted for permanent installation. You can expect to see CATSCLAW anchored into the roadway at borders or to enforce checkpoint security.
The CATSCLAW Tactical system can also be used as a mobile barrier to enhance perimeter security at large public gatherings. For example, the Tactical tire-shredding solution is often deployed as a secondary line of defense. In this use case, CATSCLAW deters vehicles attempting to enter areas marked as restricted to vehicular access with the system's optional signal and warning sign array.
CATSCLAW can be completely set up by a single person and deployed by a single person at the push of a button. To deploy the product, users can use an integrated remote control with a range of 1,500 ft. or press a button installed within a guard unit.
When activated, specially-designed tire-shredding blades rotate on an axle to an engaged position to inflict irreparable damage to tires, effectively slowing or stopping the vehicle. Custom-designed blades can be single- or bi-directional.
In 2020, Global GRAB Technologies acquired CATSCLAW to expand our portfolio of less-than-lethal vehicle barriers and further invest in our ability to provide our clients with end-to-end, turnkey perimeter security solutions.
CATSCLAW systems are designed for single or bi-directional blades and are available in a variety of lengths and configurations including solar capabilities.
Prevent Hostile Vehicle Attacks with Global GRAB Technologies
As large outdoor public gatherings begin to ramp up, officials must carefully consider perimeter security and hostile vehicle mitigation to protect attendees and to mitigate a potential security breach.
Without an end-to-end solution that considers every vulnerability and potential threat, people, event facilities and key infrastructure may be left unprotected.
Global GRAB Technologies serves a multitude of customers globally including some of the busiest Airports and Port Authorities in the United States, the Department of Defense, National Guard, Department of Homeland Security, Department of Justice and several confidential agencies, in addition to top banking and financial institutions, sport and entertainment venues and some of the largest data centers and petrochemical companies in the U.S.
Our process starts with a best practices consultation with the customer to design and deliver the right solution. Need someone to provide continuing system maintenance and support? Global GRAB has that experience.
Interested in learning more about mobile barriers? Contact the team today.