Mobile perimeter security solutions are key in keeping people and property safe when more permanent systems will not work due to the design or layout of the event.
Large outdoor gatherings, including farmers' markets, outdoor rallies, Christmas markets, political gatherings, festivals and fairs require a determined and thorough best-practices approach to perimeter security.
Since these gatherings occur in public spaces, perimeter security solutions are deployed close to the event's starting time and removed afterward. Our perimeter security experts rely on mobile vehicle barriers for hostile vehicle mitigation (HMV) when permanent solutions are not an option.
At Global GRAB, our suite of mobile vehicle barriers includes the most effective solutions on the market today. And each barrier can be set up and deployed with no tools and minimal training.
We've rounded up our top three mobile vehicle barriers. Take a look:
Mobile Vehicle Barrier #1: CATSCLAW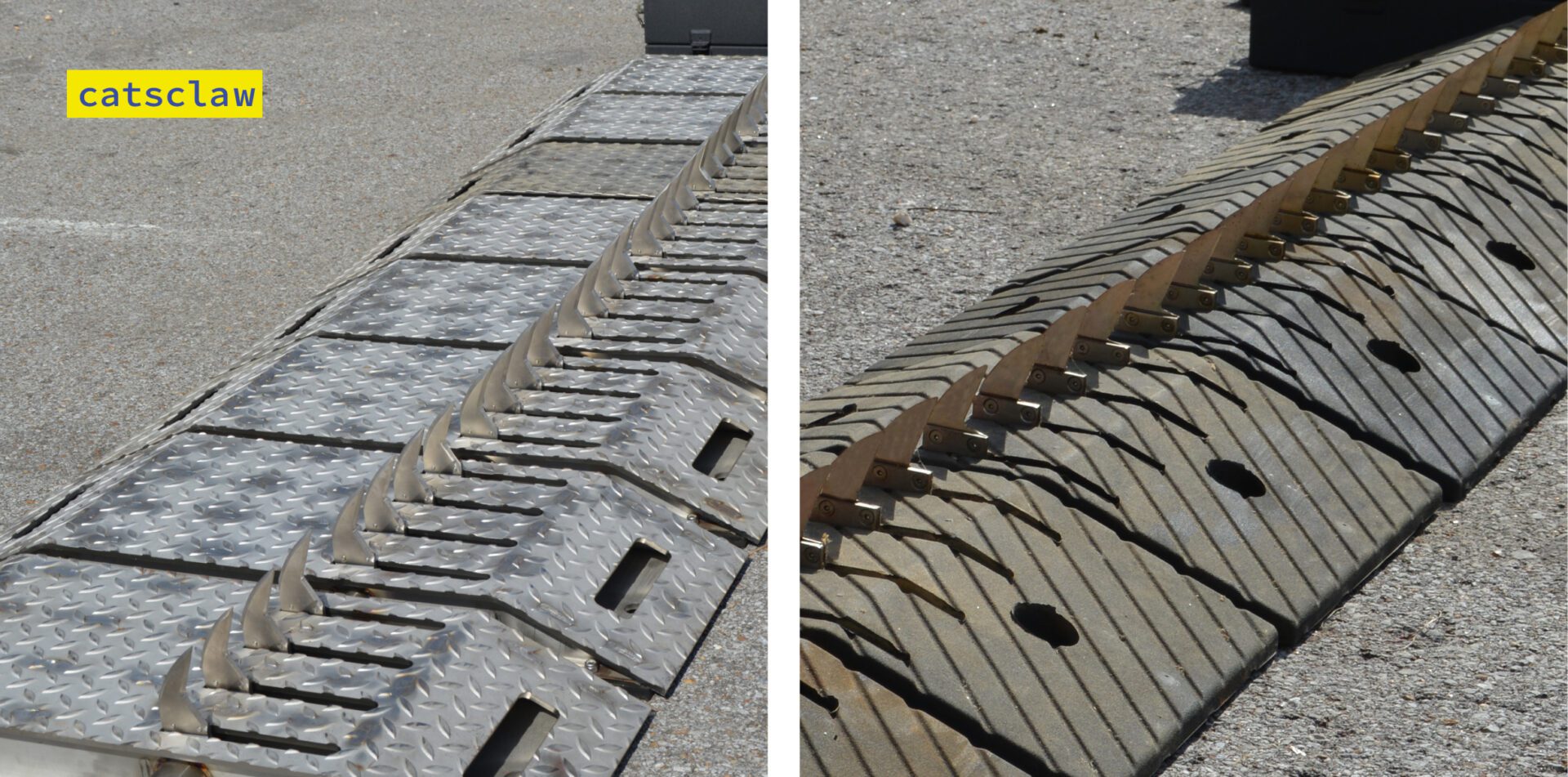 Global GRAB's CATSCLAW tire-shredding solution is a less-than-lethal vehicle barrier system often used in conjunction with other barriers to harden a checkpoint or perimeter.
CATSCLAW's tire-shredding system can be delivered with either a single or bi-directional blade system, stopping both ingress and egress at checkpoints.
Often coupled with other active barriers and passive barriers, CATSCLAW is a reliable solution for border control, to secure access points and checkpoints, to create secure perimeters for events, and to combat smuggling and terrorism.
A single person can set up the portable CATSCLAW Tactical system.
While the CATACLAW system can be permanently installed in-ground, it is also a widely used mobile vehicle barrier. The mobile configuration and setup are straightforward, with little training needed.
In an attempted breach, CATSCLAW can be deployed with a remote control or via a button integrated into an existing guard booth control panel.
Since setup and implementation are simple, this mobile vehicle barrier is ideal for hardening access points and denying unauthorized vehicle access at outdoor events.
Mobile Vehicle Barrier #2: MVB-3X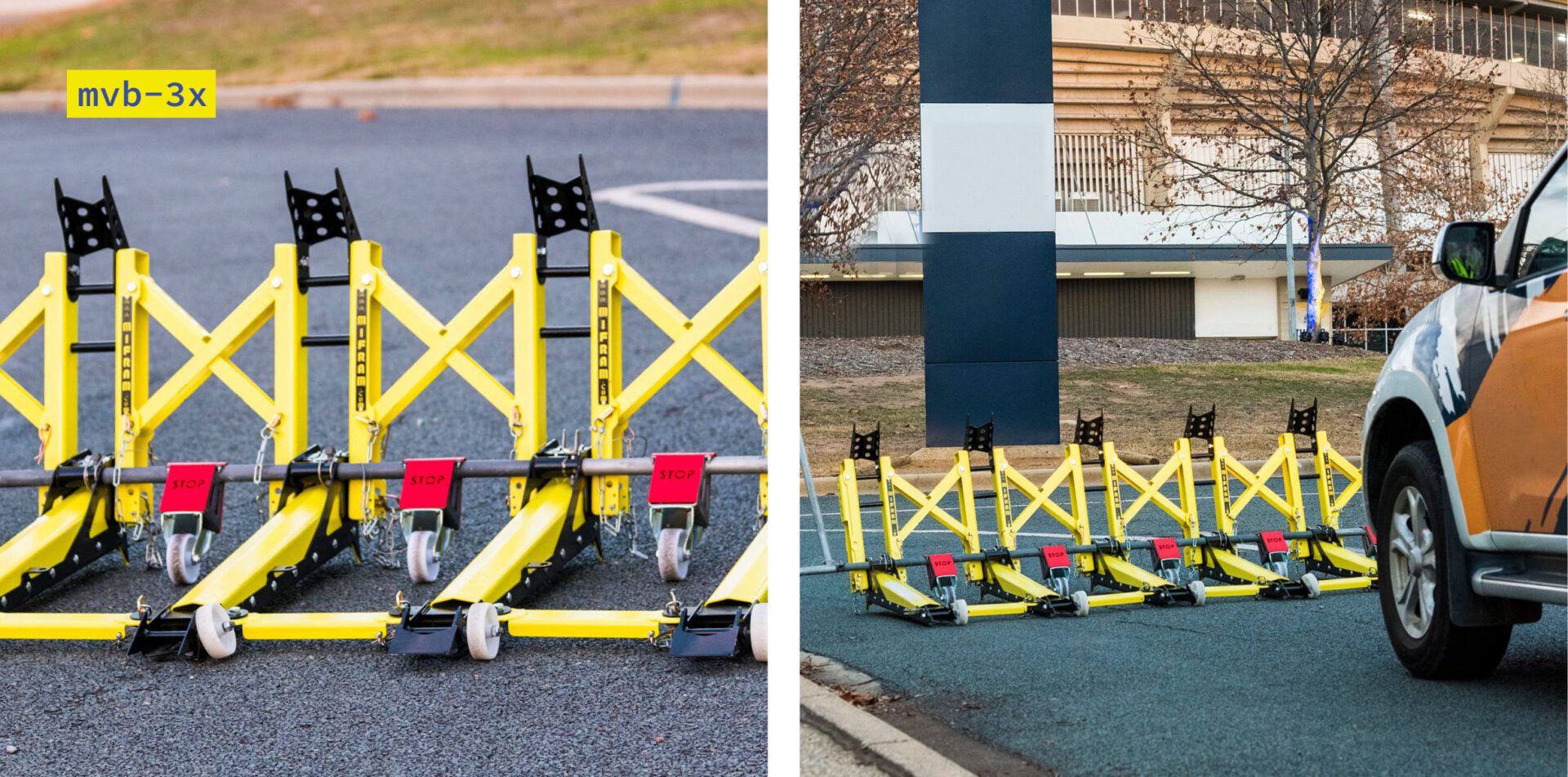 The MVB-3X modular system is an L-shaped mobile barrier rated to stop a 7.5-ton truck at 30 mph, as seen in this crash test video. The shape of the barrier transfers a vehicle's momentum, effectively stopping progress and thwarting threats.
The MBV-3X works well in urban environments. While it can be anchored into the ground, the barrier can also be allowed to pivot for easy ingress or egress of authorized vehicles. The barrier is designed for various terrains. As used by the military, the MVB-3X works on sandy, rocky or rough terrain, as well as on gravel and asphalt.
As seen in our MBV-3X cutsheet, the features of this mobile barrier make it an attractive solution for special event perimeter security. Setting up is easy. Additionally, the barrier is lightweight and folds compactly for transportation to any desired location.
This mobile barrier protects critical infrastructure, safeguards pedestrians and structures at special events, and aids in creating secure boundaries for military, security and law enforcement personnel.
Mobile Vehicle Barrier #3: Star Barriers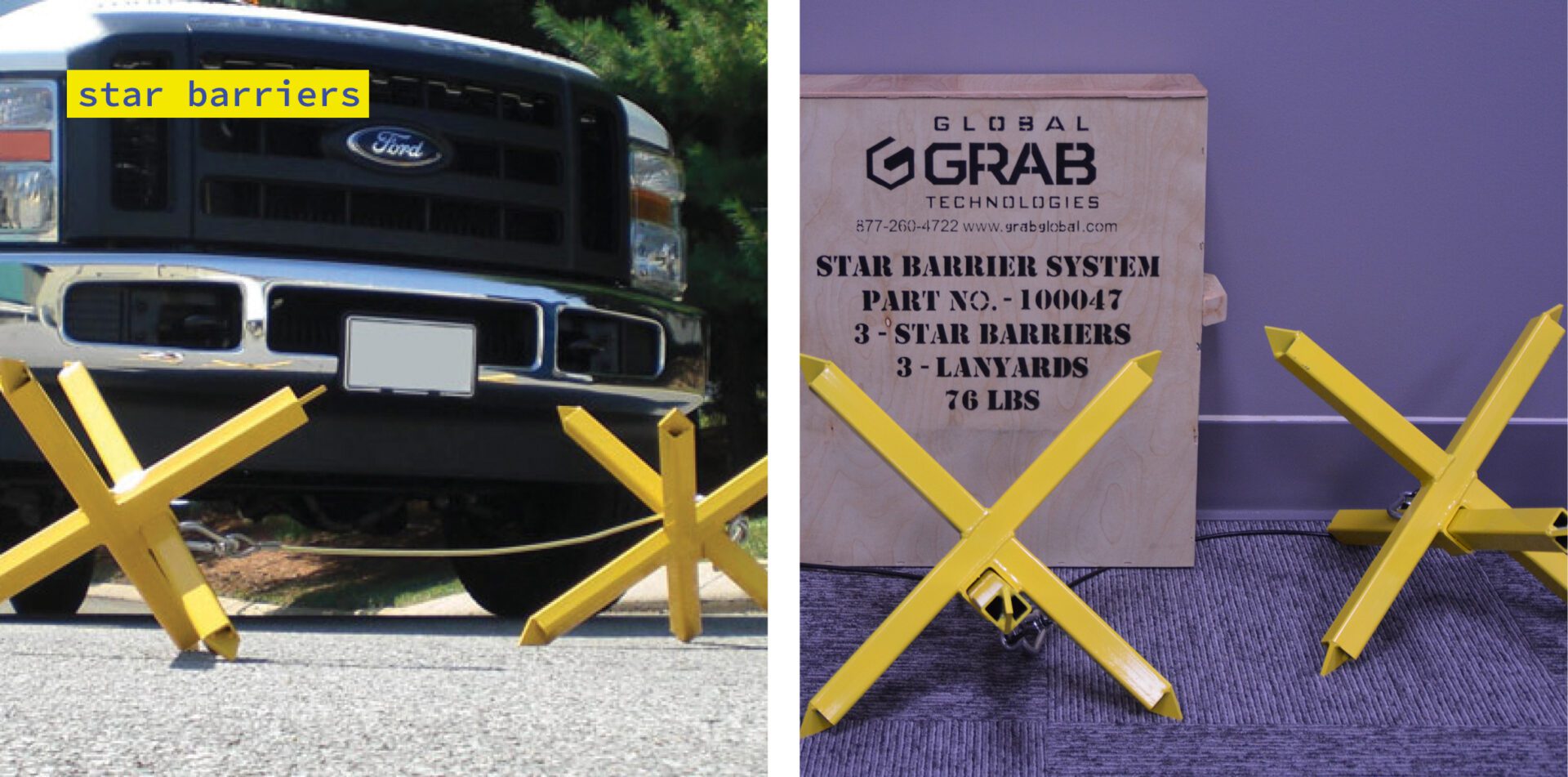 Historically, law enforcement professionals have used Star Barriers to quickly set up secure boundaries around crime scenes, crash sites and checkpoints. However, security personnel and event organizers are also turning to Star Barriers to prevent hostile vehicle attacks at special events and for VIP protection details.
Perhaps the most mobile of our modular barriers, Star Barriers disassemble and fit nicely into a custom carrying case. Assembly is completed in four simple steps as outlined in our detailed product cutsheet. Star Barriers can be assembled and disassembled with no special training.
Notably, Star Barriers are a more effective solution than traffic cones.
Additionally, a single person can string them together to create a perimeter. Each Star is powder-coated in yellow to act as a visual deterrent, while the three steel spikes on each of the Stars are designed to stop a vehicle.
Global GRAB: Your Perimeter Security Experts
We cannot overstate the importance of protecting perimeters from hostile vehicle threats, especially as the number of public events increases. As terrorists continue to seek out cost-effective methods for inflicting damage, causing casualties and disruptions, hostile vehicle attacks will continue to occur.
At Global GRAB, we are committed to protecting people and property, starting with perimeter security. If you are seeking a mobile perimeter security solution, contact the experts at Global GRAB today.
Our process includes a thorough best practices consultation, followed by design, engineering, construction and integration. We will handle your project from start to finish, delivering a turnkey solution designed to protect.
Get in touch: 615-551-0706